Ljubljana: I bet you can't say that fast three times. Heck, I can't even say it once slowly. (It helps, though, to know that the j in Slovenian is pronounced like a y.) However you say her name, Ljubljana, the capital of Slovenia, is a gorgeous, friendly lady, and I was thrilled to make her acquaintance.
SLOVENIAN HOUSE VIDA
We had left Sežana and now were staying at the comfortable Slovenian House Vida on the outskirts of Ljubljana, a short convenient bus ride from the city center. This guest house has large rooms, some with kitchenettes, and a funky subterranean breakfast room decorated with antique radios and toasters.
Our first meal, however, was dinner not breakfast. On the innkeeper's recommendation, we booked at table at Gostilna Sokol, the best restaurant in town for traditional Slovenian food. While we found the food in Sežana to have a Mediterranean influence because of its proximity to Italy, the food at Sokol didn't have that same lightness. This restaurant celebrates the land of game, sausage, dumplings, and gravy.
LJUBLJANA CASTLE
We rode the bus to town and got off to walk around the Old Town area. Our way to dinner was artistically lit with the highlight being the green hue of Ljubljana Castle. This is an appropriate color as Ljubljana is The Green Capital of Europe 2016, an award it won for its "high environmental standards."
PLATO IN LJUBLJANA
We strolled by closed shops, wishing that this attractive book store had been open. On second thought, I am not sure I could have found a book in English here. For example, the book in the foreground is Platon, which in Slovenian is Plato. It still would have been fun to poke around.
GOSTILNA SOKOL
Arriving at Gostilna Sokol, I shook hands with the cute chef who greeted us at the door. Inside, we found a warm, inviting room with white-washed walls, wooden tables and chairs, and knickknacks placed about, kind of like being at your Slavic grandma's house. We found authentic Slovenian delicacy on the menu that was too "authentic" for our taste: foal. Other restaurants offered this local fare, too, but they called it horse outright.
I was not too hungry and rather vegetable deprived, so I ordered the vegetable casserole, which actually was a very pretty, tasty vegetable terrine. Bruce's dish won the "wow factor," however. He ordered the game plate, which came with "deer medallions in . . . cherry sauce, stag stake (sic) with porcini mushroom sauce, wild boar with green pepper, cheese rolls, polenta, and dumplings."
THE FOUNTAIN OF THREE CARNIOLAN RIVERS
Obviously, there was no room for dessert, so we began our walk back to catch a taxi, but we had to make one stop. We took this "tourist photo" (We are tourists, after all!) in front of the 1751 Robba Fountain named after its famous creator. This major landmark is also known as The Fountain of Three Carniolan Rivers. It is a replica; the original sets inside the National Museum, safely out of the harm of hot sun and freezing temperatures and snow. I like knowing this fact since Francesco Robbo bankrupted himself to finish the piece, so its preservation validates his sacrifice. I think Robbo would be pleased.
CITY OF THE DRAGON
After a good night's sleep, our husbands went to work, and Marcia and I went to explore Ljubljana by daylight. This is the City of the Dragon. According to legend, a ferocious dragon guarded the area, preventing any settlement here. Then, Jason and his Argonauts of Greece fame encountered this fire-breathing beast and slayed him. Local people were ecstatic and began to settle along the river. Look closely today and you will see the omnipresent dragon: on the city's coat of arms, on top of the castle tower; on the Dragon Bridge, on the flag, on souvenirs, etc. (Photo of a dragon sculpture on the Dragon Bridge from Ljubljana Tourism E-News Letter.)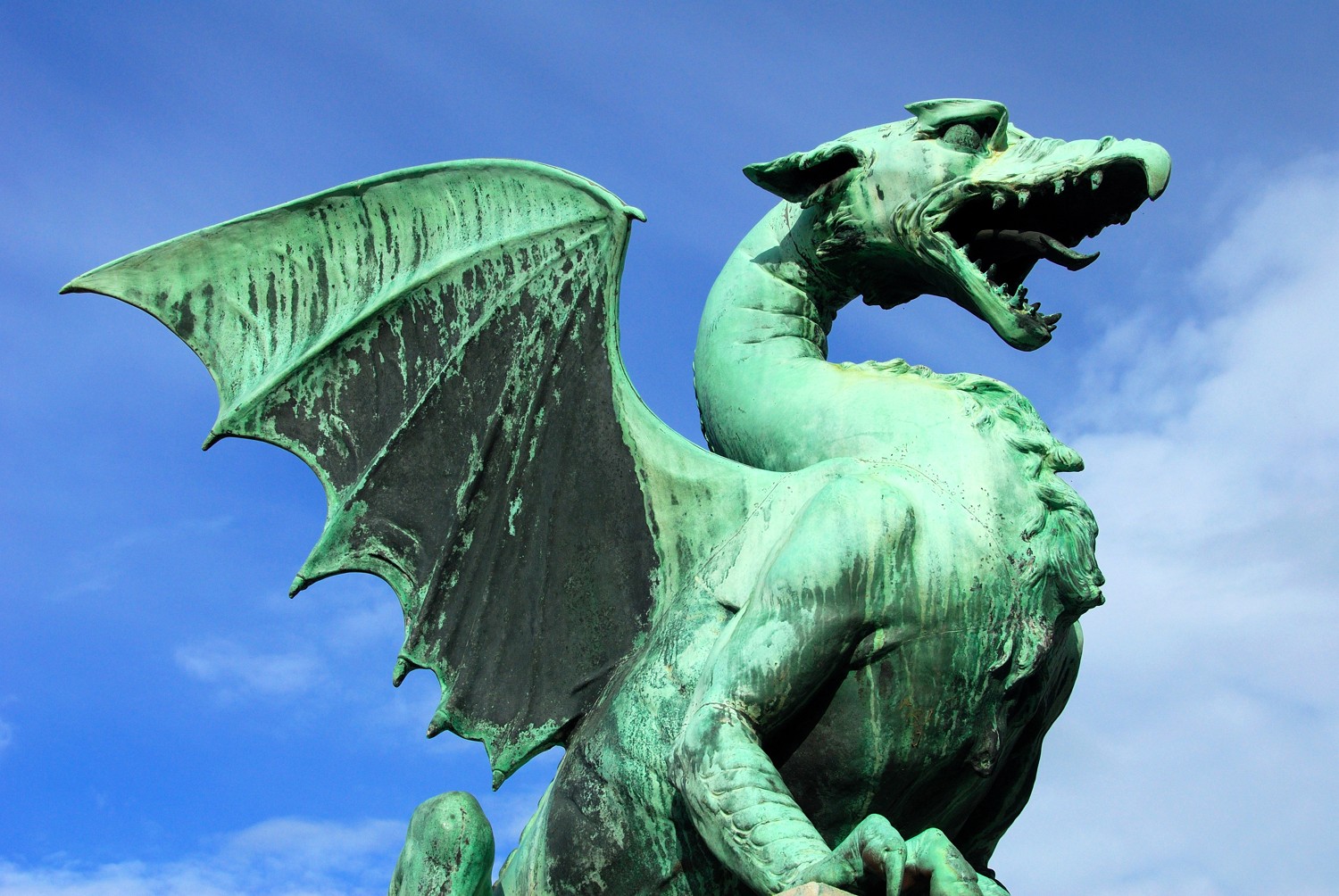 THE TOWN SQUARES
Ljubljana has several attractive town squares, or trgs; historic buildings with architectural charm; and memorial sculptures, such as the one below of Slovenia's most famous poet, France Prešeren. Marcia and I strolled by admiring the local color, but we didn't stop because we were on a mission: shopping for souvenirs.
SHOPPING AT THE CENTRAL MARKET
We headed toward The Central Market, which is composed of both a covered market and an open-air market, in a space between the Triple Bridge and the Dragon Bridge. Starting at the open-air market, we inspected a flurry of flowers, colorful glassware, beautiful leather goods, art prints, and other tempting offerings.
18TH-19TH CENTURY BEEHIVE PRINTS
Marcia chose a lovely red wallet bought directly from the artisan who made it, and I became enthralled with the story of the beehive prints and bought two of those. Folk artists began painting the front of beehives' wooden panels in the mid-18th century. The artists produced more than 600 religious and secular motifs. The belief was that if each hive had is own individual art work, then this would help the bees' orientation. They would always be able to identify their home.The prints show slices of 18th and 19th-century Slovenian life that are still relevant today. While the religious motifs are serious motifs, there are light-hearted, humorous one like the one I bought. We have beehives in our yard, but we aren't the beekeepers. Our friends, Steve and Fran, are. I bought them a print of a couple dancing next to the beehives. I then saw this print and immediately thought, "Oh, there's Bruce and Connie bearishly eating the honey, and Beekeeper Steve is behind the tree." Gotta have it!
TEMPTATIONS AT GALLERY RUSTIKA
I also was on the lookout for something to take home to share with my herb group friends. I found dried lavender products, but those are ubiquitous all over the world; I wanted something different. We sought out Rustika, a gallery which features the country's largest selection of high-quality Slovenian handicrafts. Delicate lace linens, hand painted wooden products, kitchen witches, and corncob dolls tempted me, but the artisan chocolate grabbed my attention. There were several options with unique combinations of chocolate, herbs, and fruit. I settled on an exotic one I had never seen before, Chocolate with Apples & Tarragon, which I will happily serve at a future luncheon for my friends.
DINING AT THE CENTRAL MARKET
We were lucky to be there on a Friday when Pogačarjev Square hosts scores of food vendors serving all sorts of international delicacies. I had seen pork dishes, like stir-fried pork and pulled pork, served on the street, but I had never seen a whole pig staring at me.
We strolled past Chinese food, Thai food, and African food, deciding to choose traditional Slovenian food instead–kinda.
We didn't have the courage to try the tripe stew.
Veal with peas, truffles, and vegetables (yes, truffles from a street vendor) tapped Marcia on the shoulder, and stuffed pepper with mashed potatoes and tomato sauce wrapped me in its comfortable arms.
Thus captured, we ordered glasses of excellent Slovenian wine for only three euros each.Time slipped seamlessly by while we ate our lunch, people watched, and enjoyed our hostess Ljubljana, a gracious, modern lady.
RETURN TRIP?
It was then time to return to our lodging. Marcia bought some red and amber votive holders as we left the open-air market. Unfortunately, we never had time to visit the covered market. Return trip? I hope so.